Buffalo Bill's Wild West Show . Disneyland Paris . Disneyland Park . DYN . Frontierland . Sounds & Audio
What the Buffalo Bill's Wild West Show and the Disneyland Railroad have in common
On October 8, 2017 by ExplorersClub92

I am a big fan of the music played all around Disneyland Paris. Sometimes I watch Youtube videos just to get the feeling of walking around the parks. While watching/listening to all the Frontierland videos I've found out that the Disneyland Railroad and Buffalo Bill's Wild West Show have something in common:
They share a piece of the same music.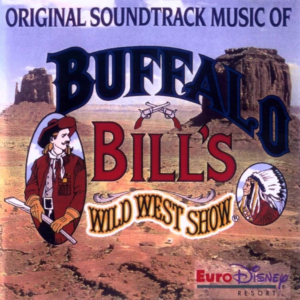 And the title I am talking about is "The Cavalcade and Maze" from composer George Fenton. The Song is released on the 1992 album "Buffalo Bill's Wild West Show".
It's basically the first Song in Buffalo Bill's Wild West Show. It's the song that starts playing when the cowboys from all four teams ride into the arena for the first time.
I am not sure if the music or at least some of the tracks in BBWWS are from movie soundtracks but I couldn't find anything about this particular track somewhere else. So I guess it is especially produced for the show. Or was it produced for the Railroad? 😉
Want to see and hear the track I am talking about?
Have a look at this video from 2017 to see the scene I am talking about:
The exact same track is playing in the Disneyland Railroad while departing the Frontierland Depot. Wanna see or better hear it? Here's a Video from February 2017:
The thing about the Disneyland Railroad is that it seems like sometimes the music and soundeffects are working and sometimes they aren't. Maybe the Cast Member can decide if they play the soundtrack or just talk for themself? I've ridden the Railroad multiple times without sound and just with talking Cast Members. On Youtube you find videos from the past years with and without music.
Where do I get a copy of the Buffalo Bill's Soundtrack?
You can order it from Amazon. But as it is a very old CD evantually you have to spend a fortune or it isn't even available:
https://www.amazon.com/Buffalo-Bills-Wild-West-Show/dp/B00JZS9J4G
Probably you are more lucky on eBay.
Hear the BBWWS Soundtrack for free!
Just wanna hear the great soundtrack of the BBWWS?
Thanks to Café Mickey this is no problem. Just listen to the full soundtrack of the show on youtube. It's all in this playlist:
https://www.youtube.com/playlist?list=PLvCB03G2NkKNzr5pc_5OHEN-N92ahYG4k
Add some more BBWWS flair to the experience
While listening to this you should try baking the delicious vegan Camp Cornbread from the Show. Here's the recipe!