Adventureland . Restaurants . Veggie Food
[Vegan] Agrabah Café Buffet – Review
On January 12, 2018 by VeggieAtDLP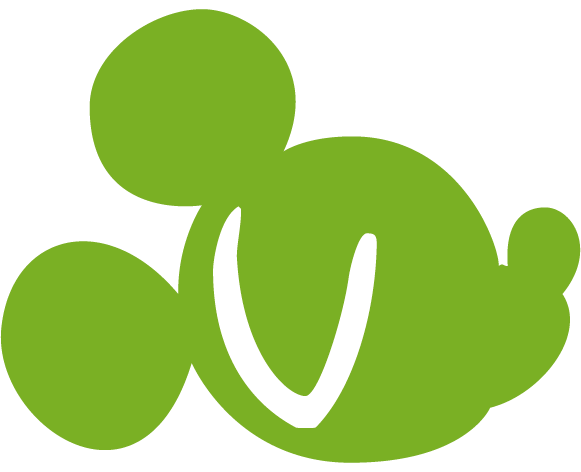 "All this for a loaf of bread?" – Aladdin
I'm sure Aladdin would've taken more or at least something different than a loaf of bread if he had the chance to steal in Agrabah Café in Adventureland.
Let's have a look at what he/we can expect there..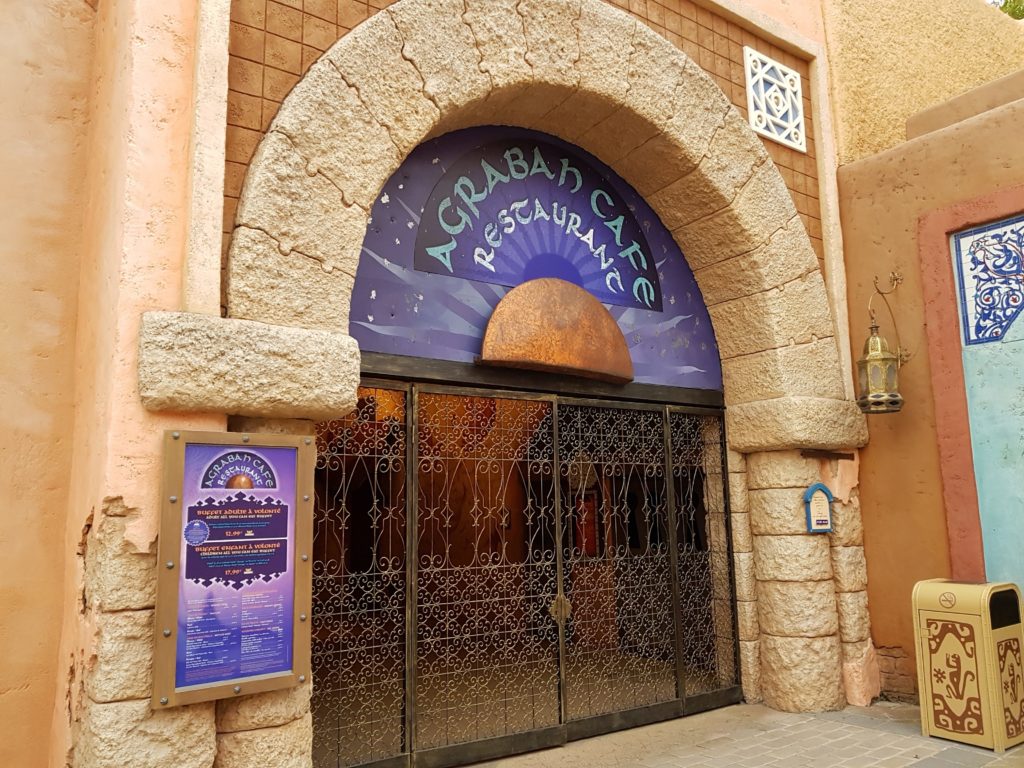 First you should get in the mood of the All-You-Can-Eat Buffet Restaurant by playing it's Background Music Loop while reading through this  review (via "Filmographik"):
This was my first visit to Agrabah Café in Adventureland. I'm not a big fan of buffet restaurants but as a vegan you have to find food in Disneyland Paris and from what I've heard this is THE place to be if you are a veggie!
We paid 32.99€ each for the buffet incl. a soft drink. With my Shareholders Club Discount (-15%) it was just 28.04€ each. And that is pretty fair for Disneyland Paris.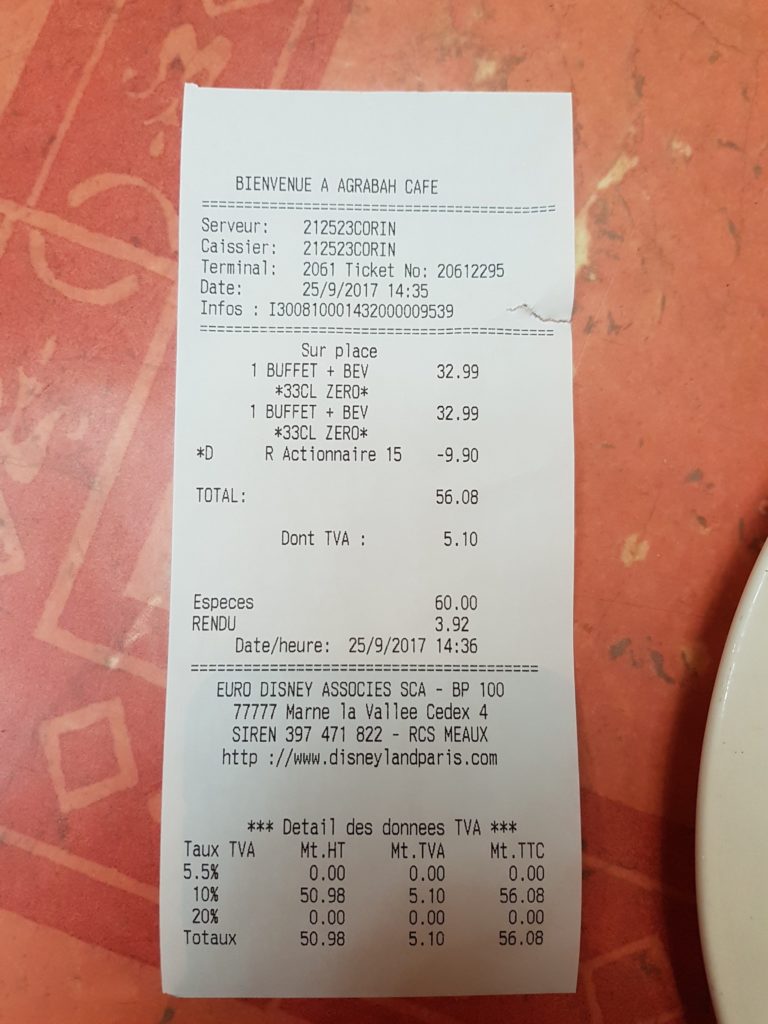 The restaurant is located right at the entrance of Adventureland inside the Adventureland Bazaar which is themed after One Thousand and One Arabian Nights. Is Euro Disneyland's early years you could buy many oriental themed things here. There even was a guy hammering metal plates. Have a look at this short video so see the Adventureland Bazaar in it's old glory (1994):
The whole restaurants is nice and contorted and you have many things to look at. I recommend to have a look at all the different small rooms and corners.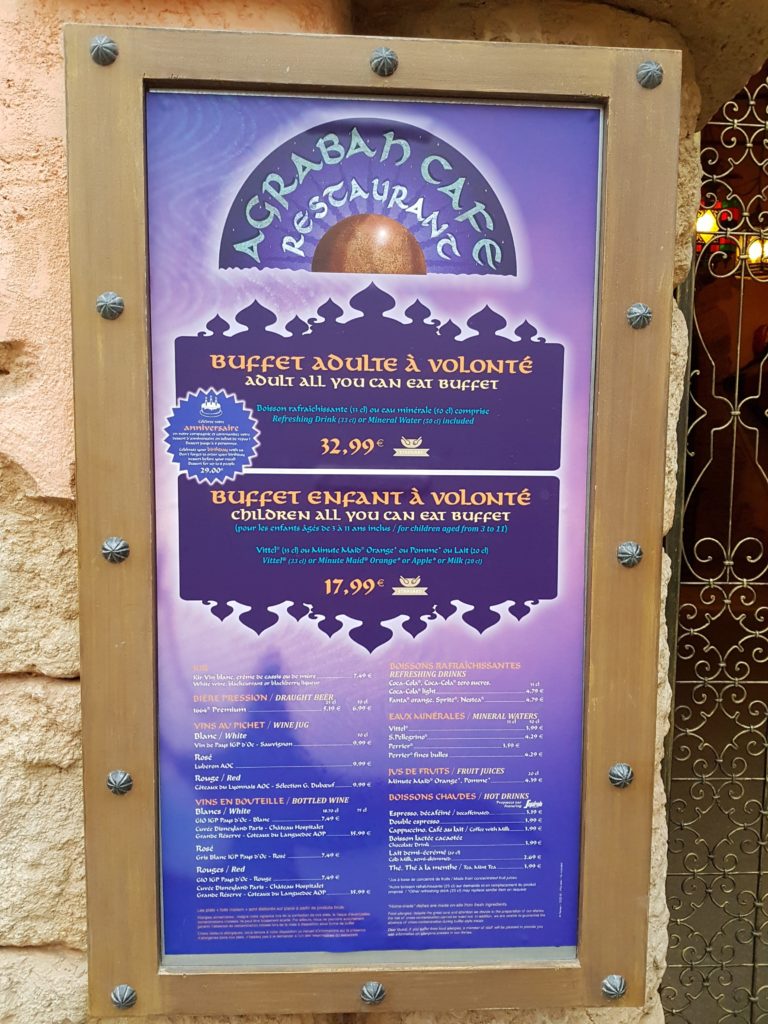 For more detailed information and beautiful interior photos you should have a look at this article by Tom Bricker.
Let's talk FOOD!
Let's have a look at the food. As usual you eat too much at all-you-can-eat buffets 😉
So here is some of what we had: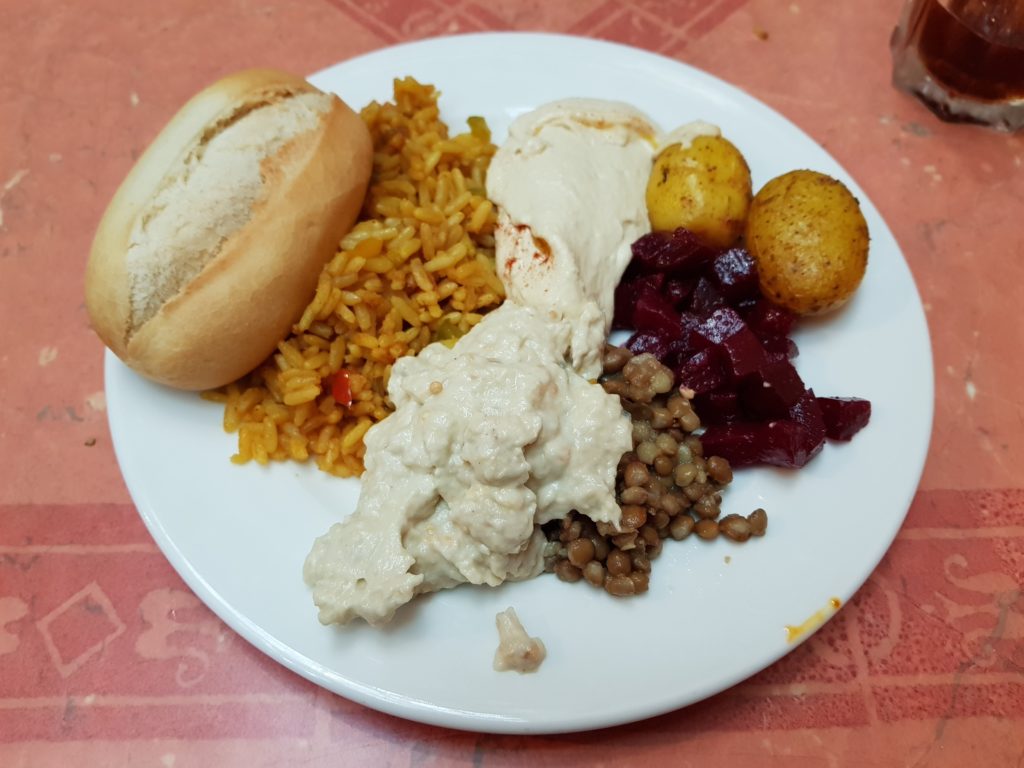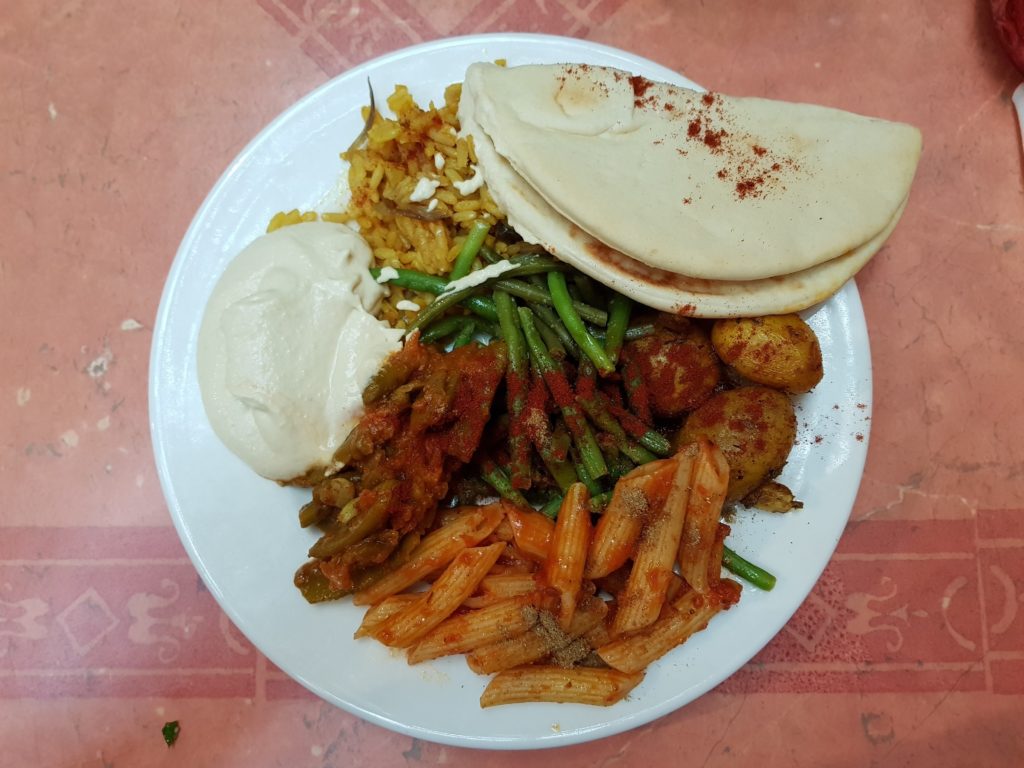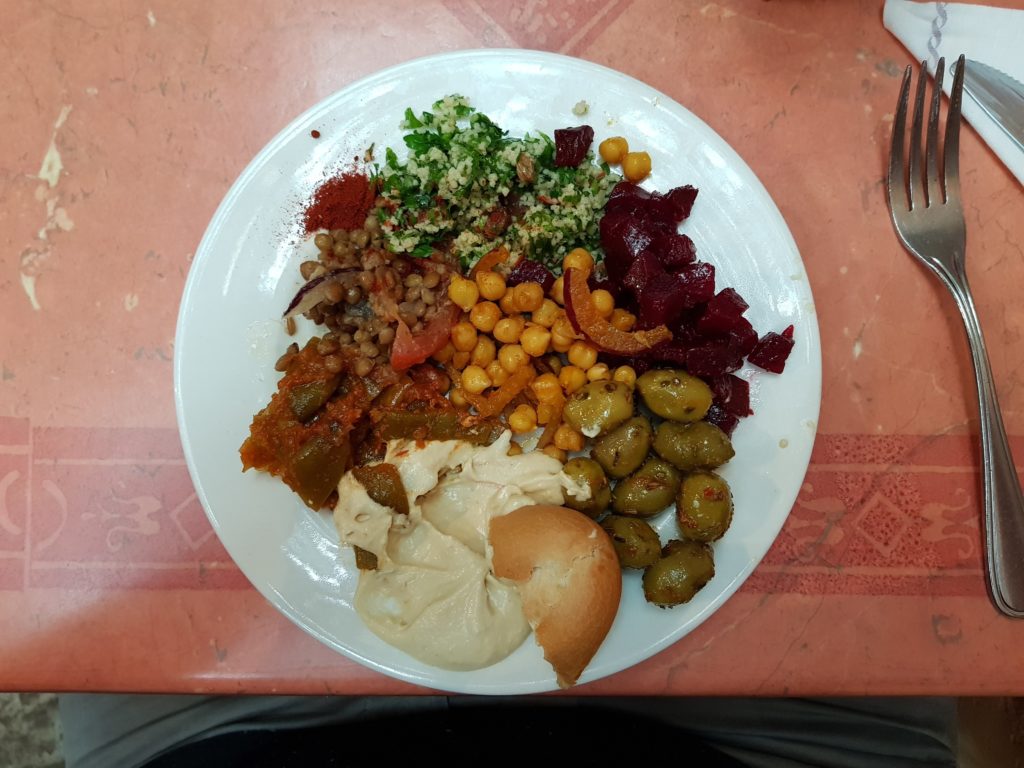 The food is pretty oriental. Hummus, Olives, Chickpeas, Couscous, rice, many different vegetables etc.
Everything was pretty tasty and seemed freshly made.
Here are the Starters
My focus was on vegetarian and especially vegan food. There are some meat based options on a separate stand. What you see here is everything without meat/fish and most of the vegetarian food.
For veggie starters this is a pretty impressive line up if you ask me. And I would've never thought Disneyland Paris is even capable of doing something like this. Chapeau!
Let's move on to the hot main courses
The hot main courses are great too. We really enjoyed many of the courses. Only the Pita bread was a bit dry and hard. But in case of emergency you always have the Disneyland Paris signature rolls 😉
Let's talk dessert
You made it! If you have done everything right you don't even think about dessert at this point anymore because you have tried more than Aladdin could steal in his whole life. Now you should feel like the Sultan (Jasmine's father). But a Sultan needs dessert.
There are a couple of cakes and other desserts which all contain milk, eggs etc. Sorry I don't have photos of them. Pretty much the same dessert buffet like everywhere in DLP. Vegans just have some fresh fruit salads and dates. Nothing special here.
Nowhere else in DLP you have as many different vegetarian and even VEGAN choices as in Agrabah Café. Especially as a vegan it can really be very hard to find some decent food. If you are hungry and don't know where to go, Agrabah Café is always a good place for you animal lovers. The dessert buffet is not yet where it could be (from a vegan point of taste). I will definitely go again to this place and can recommend trying some of this food from a whole new world.
For a video tour of the restaurant, buffet and if you wanna see how much Jordie from @dlrpfans can eat you should watch their Lunch-Vlog (be aware. this is not even close to a veggie meal):
Have you been to Agrabah Café? Was the buffet different? Did you liked it? Please share your thoughts and experiences.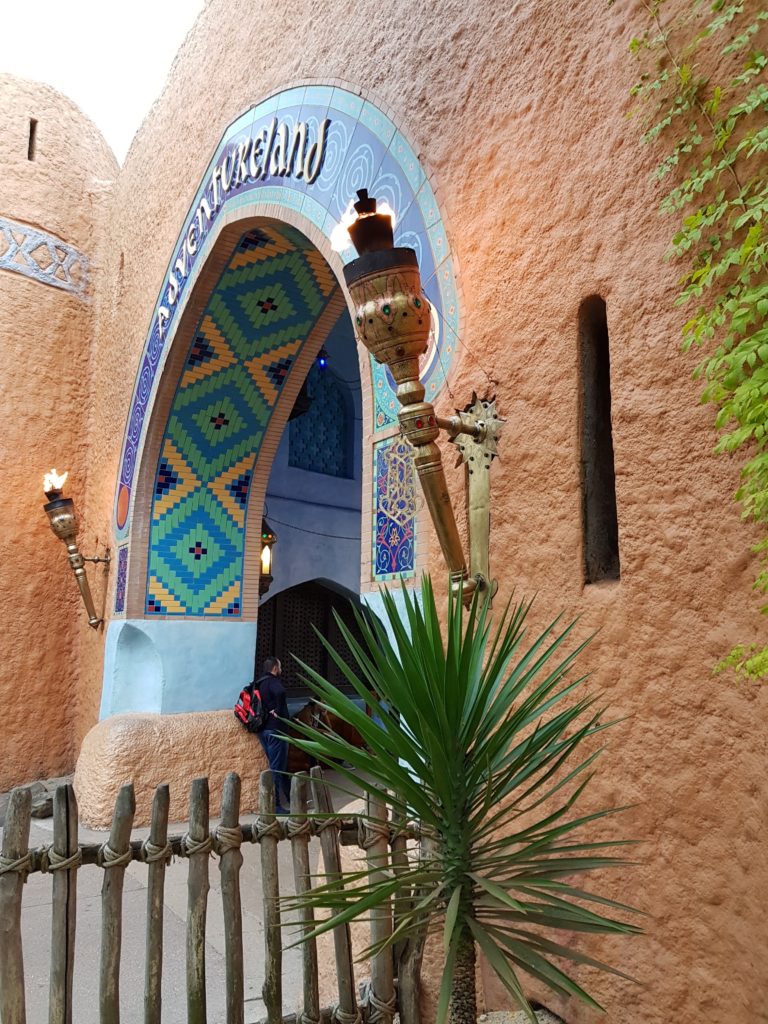 1 comment