Main Street U.S.A. . Veggie Food
UPDATED – Walt's An American Restaurant goes veggie! Has Disneyland Paris heard us?
On January 16, 2018 by VeggieAtDLP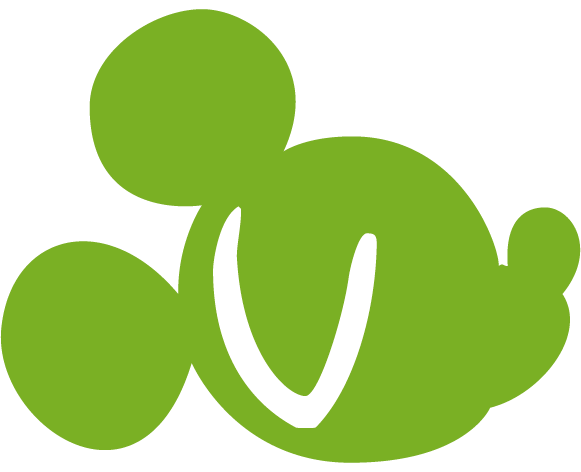 I cannot believe it finally happened, but Disneyland Paris has released a restaurant menu with something completely new that is very special for the happiest place in France. This is news you cannot miss.
UPDATE: Bad and good news about veggie food at WALT'S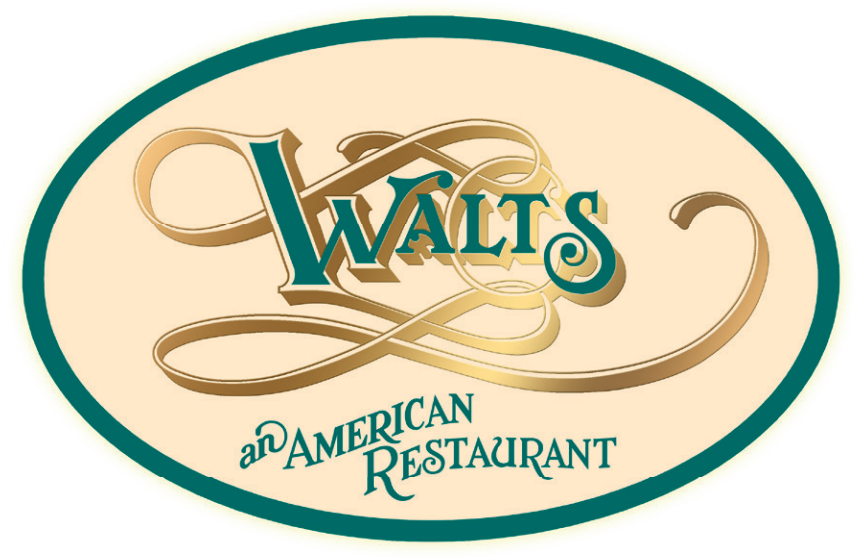 ---
— UPDATE 2 (May 2018) —
This Post was about a new all vegetarian 3-course meal at WALT'S. Unfortunately I learned in February that this was just a test for a few weeks and is gone. Until now this vegetarian menu hasn't returned. So probably it wasn't successfull enough.
The good thing is, you can have a vegetarian 3-course meal at WALT'S right now. And you know what? It's VEGAN!
Read all about this in my newest Blog post in a few days.
---
— UPDATE 1 (Jan 2018) —
I asked the Help-Account of Disneyland Paris on twitter if those 5 meals are probably already vegan or could be prepared "without the use of animal products. Not milk, egg, cheese, meat stock, honey.". Here's their reply: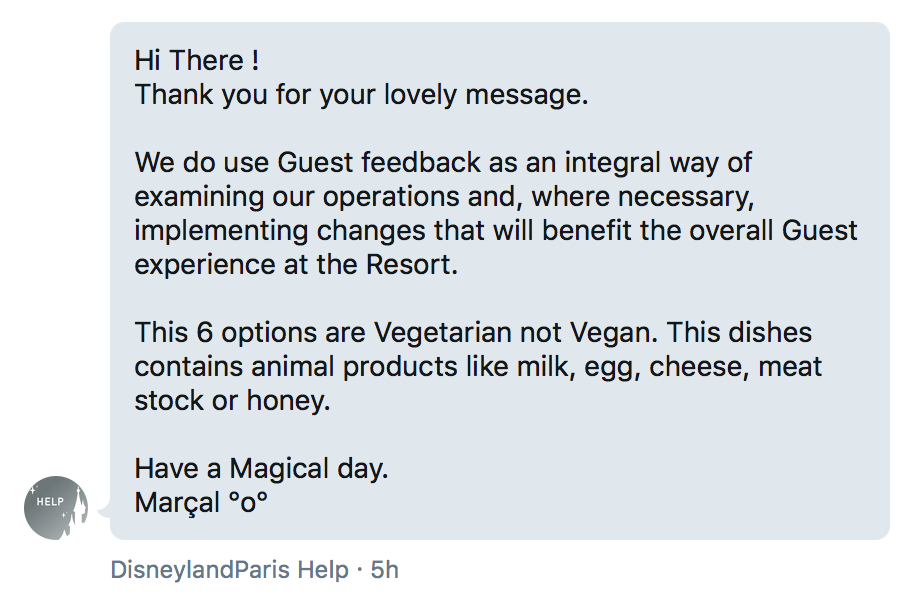 As expected the answer doesn't really help, as always when I ask if something is or can be vegan. I will tell you what can be vegan after my next visit end February.
---
— ORIGINAL POST —
Before I start let me tell you something about Disneyland Paris. They do have vegetarian courses in their restaurants. But here's also the problem. Nowadays there is at least one vegetarian choice in each restaurant. Café Agrabah is with it's great veggie buffet an exception to that.
The thing is, one choice in't very much. And it's even more frustrating if there's no dessert or you cannot have the only veggie main dish in a combo-menu like in Captain Jack's.
The worst: You barely can find a vegan à la carte meal.
What has changed? Let's find out.
From time to time I'm browsing through the different restaurant menus Disneyland Paris publishes on their website. Today I planned our upcoming trip in February and as we have the Full Board Plus meal-plan I was looking for some nice veggie food. I couldn't remember what "Walt's" veggie main dish was, so I looked it up. And here we go:
Disneyland Paris has introduced a vegetarian 3-course menu!
It seems like Walt's is the first restaurant with a full vegetarian menu in which you have the choice between two starters, two main courses and two desserts. For Disneyland Paris veggie fans this is huge. For me this shows, that they do see the importance of veggie food and that they cannot fob veggies off with some side dishes in buffet restaurants.
Walt's new menu is dated 12/2017 and can be assumed very new.
 What's the deal?
Starters
Beetroot and cabbage, pomegranate dressing € 17.99
White bean purée, tofu with cashew nuts € 17.99
Main Courses
Sautéed vegetables with pesto, quinoa and courgettes € 36.99
Gnocchi, grilled porcini mushroom sauce and baby vegetables € 36.99
Desserts
Chocolate-coconut ganache, orange marmalade
and chocolate biscuit (gluten free) € 16.99
Selection of ice creams and sorbets and seasonal fruits € 14.99
Vegetarian ≠ Vegan
The downside, vegans still have to find alternatives. At least the menu doesn't say if the meal is vegetarian or vegan.  Now they just need to use another veggie marker to tell us if a meal is just vegetarian or completely vegan. They do have lists with ingredients and can find out if a meal is vegan. Why not put it into the menu? At least they have put in a "gluten-free" comment directly into the menu which I've never seen before at Disneyland Paris.
Conclusion
If you ask me this looks very promising and after they made the vegetarian dish in Captain Jack's by default vegan, I hope some of these delicious sounding offers catch up to that. Only the pesto, gnocchi, sauces and ice cream could be a problem because they aren't vegan in most restaurants. All the other known ingredients could be very vegan and that's very good news!
With 59,99€ the menu is far from cheap and costs the same as the "Premium Menu" the also offer. But in my experience they serve really good food which is worth a try. Let's give this new opportunity a chance.
In February I will definitely visit Walt's and tell you more about this great new veggie restaurant.
What do you think, is Disneyland Paris starting to modernize their restaurant concepts or is this just a test or mistake? 😉
For now, cheers to this great decision..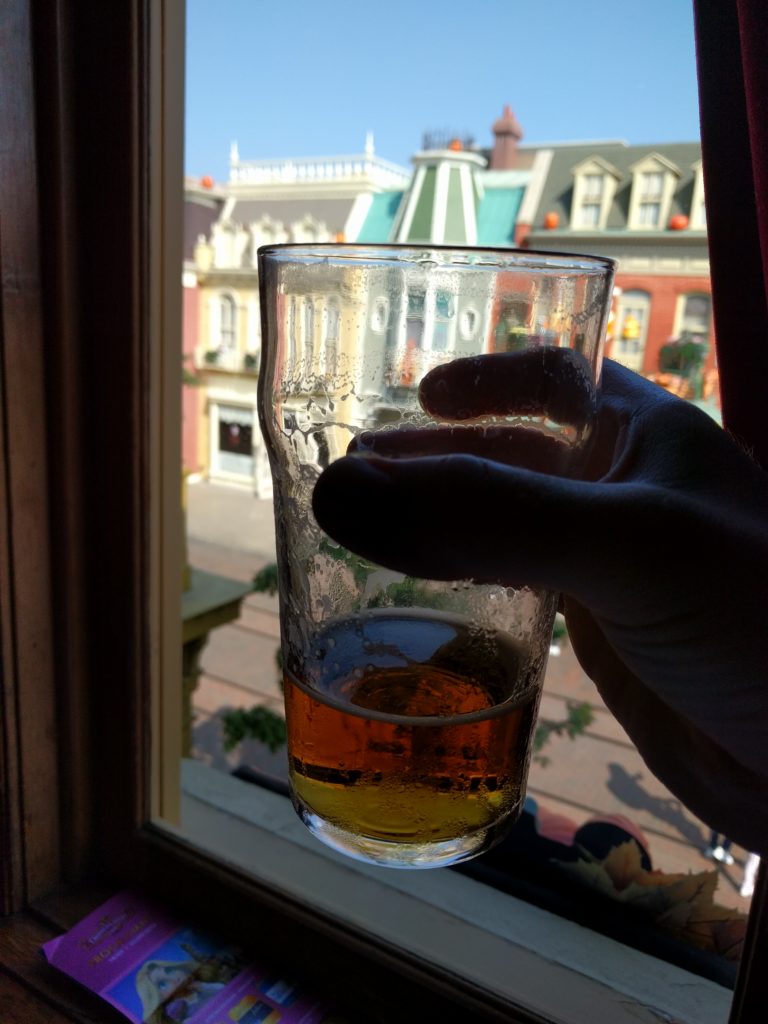 2 comments