Disney Village . Veggie Food
[Vegan] Earl Of Sandwich – Review
On January 15, 2018 by VeggieAtDLP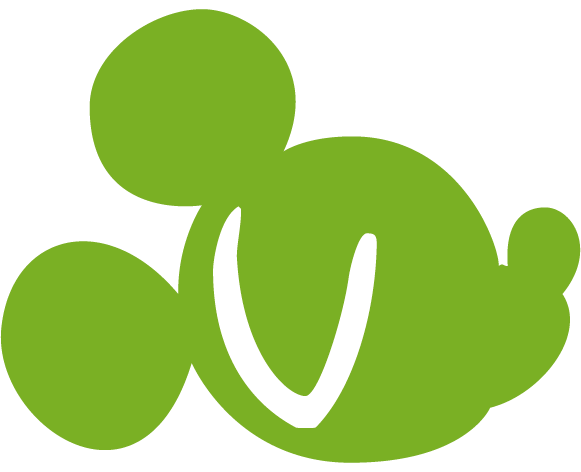 Are you ready for "The World's Greatest Hot Sandwich"?
Since June 2011 Earl Of Sandwich is located at Lake Disney in front of the "Hot Air" baloon. They serve freshly prepared hot sandwiches, salads, wraps, soups, breakfast and some bakery products. Most of them aren't even close to vegan or vegetarian food. But let's have a look if this true american fast food franchise can surprise us with something edible..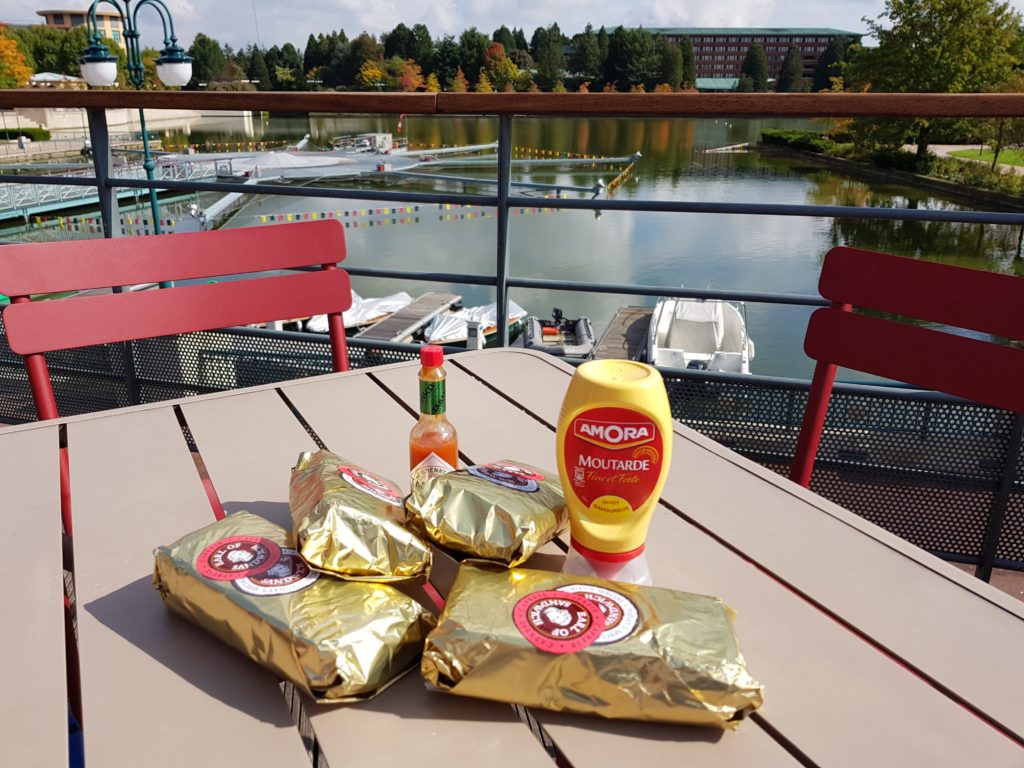 To tell you up front: YES, you can have a vegan sandwich and yes, I love them!
Earl of Sandwich has probably the best location in Disney Village when it comes to having a nice view. It's just across Café Mickey and the "Hot Air" balloon. You can sit at the ground floor or go upstairs and I really recommend that! Have a beautiful view over Lake Disney at the balloon, Sequoia Lodge and Hotel New York. If you're lucky and it's good weather, you can sit outside, in front of the building or on the terrace at the 1st floor (which is the best place in Disney Village if you ask me!).
Unfortunately vegetarians and vegans don't have many choices 🙁
Since breakfast isn't anymore included in Hotel packages you have to pay extra for your Hotels breakfast. And that can be quite pricey. Especially if you are vegan it's not really worth it. They don't serve many things without containing animal products. This is why we need alternatives and The Earl can help us out here. Of course all the breakfast options and sandwiches aren't vegan! 😉 BUT! There is the Caprese sandwich. The toppings: Fresh mozzarella, Roma tomato, basil & balsamic. So, this is the only sandwich which is fine for vegetarians.
Make it vegan
The nice thing about Earl of Sandwich is, that you can switch out everything in your sandwich! Just ask while ordering if you could have the Caprese without the mozzarella cheese and you have a vegan hot sandwich! I asked them to switch mozza for avocado and had a very delicious vegan breakfast. First time I did this they canceled the mozza and added the avocado for 1€ extra (see the receipt in one of the next photos). Just tell them you wanna have avocado INSTEAD of the mozza and that this shouldn't cost any extra. Worked fine for me, every time. Another trick: Add lettuce free of charge to any sandwich!
After ordering your meal you have to pay and you'll get a pager that will vibrate and blink when your food is ready. You can pick it up near the register. There are also some free sauces like mustard, tabasco etc.
And here it is: The Vegan Caprese Sandwich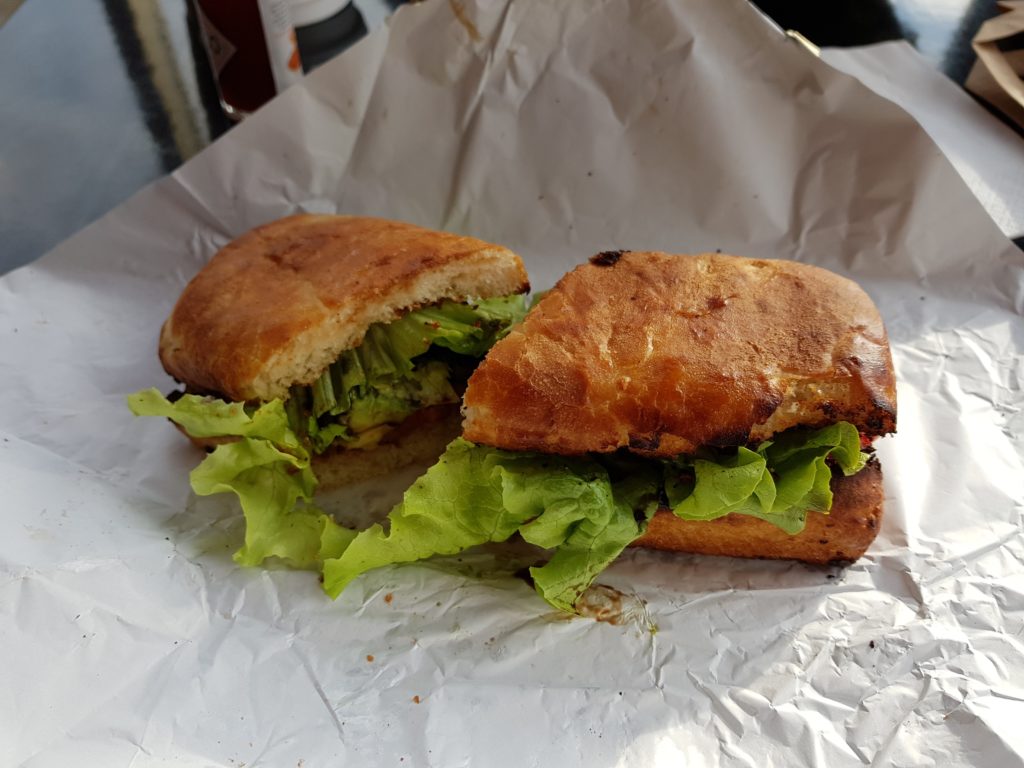 If you asked them not to make you pay extra for the avocado your sandwich should be 6,95€. With your Annual Passport you can get a 10% discount.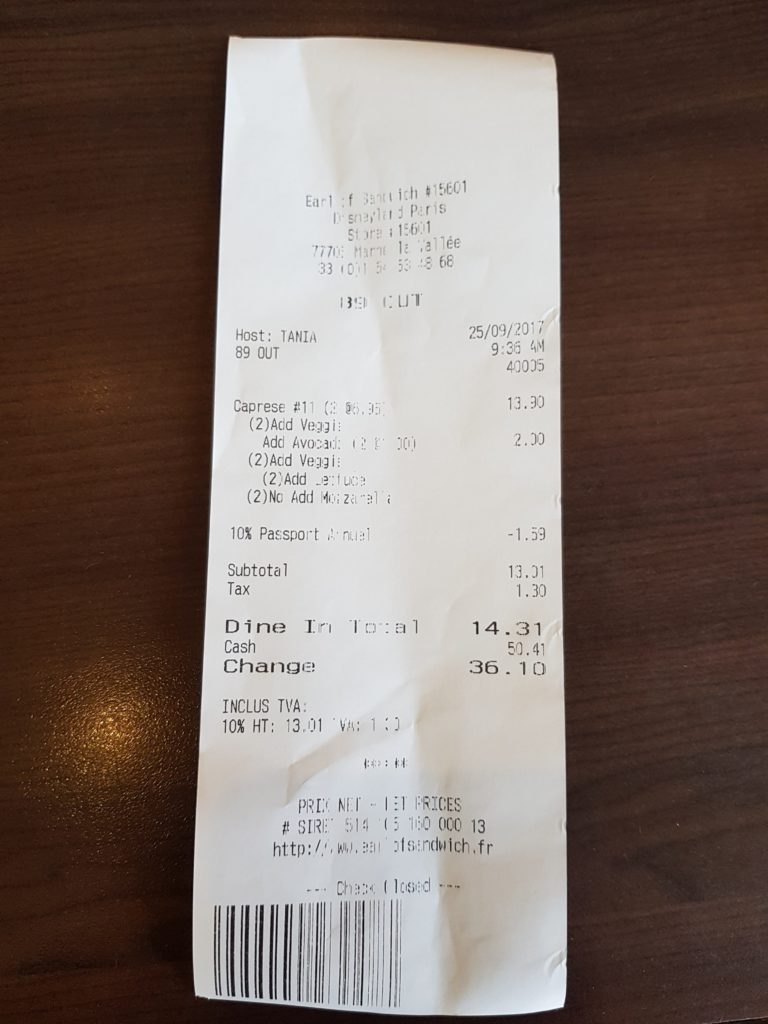 Think ahead, buy beer 😉
You can buy alcoholic beverages here. But only if you buy a main course. So if you are here for breakfast put a can into your pocket for illuminations later 😀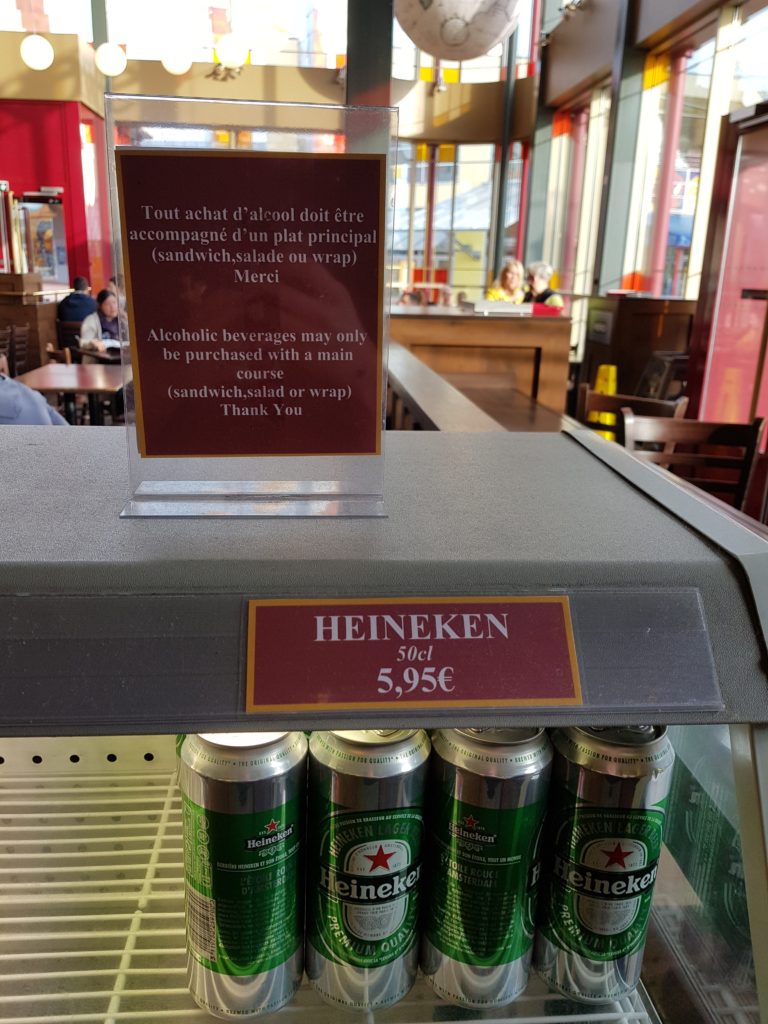 Combined with a Star Buck's coffee this is a decent breakfast.
The view!
I told you about the view, and here it is. Go Upstairs to enjoy Lake Disney like this while loving your new vegan snack-friend.
The future
I had a look at the Earl of Sandwich website and there is an international website: http://www.earlofsandwichusa.com/menu/
And a french one: http://www.earlofsandwich.fr/en/our-food/
It seems like the US restaurants serve a Veggie sandwich which they don't have, but should introduce in Paris! Feel free to ask for this when visiting the restaurant or just tweet them: @EarlofSandwichF
What about you?
Will you try the Vegan Caprese?